Ballet
Modern
(ISTD Grade and vocational Exams)
Is a stylised modern day form of dance - it works on limbering parts of the body and concentrates on rhythm and spacial awareness.
Students are accepted from the age of 5 years
Jazz
Tap
Contemporary
Popular form of dance. Tends to utilise both the strong and controlled leg work of Ballet and Modern.
Singing
Working with popular songs from musicals and the charts students are trained in voice projection, harmony and as they get older microphone technique.
Students are accepted from the age of 4 years.
Group singing
Drama
Shows
A show is staged every 2 years a the local theatre in which every student is invited to participate., giving them the experience and enjoyment of performing to a live audience.
Musical Theatre Mornings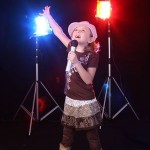 Taking extracts from musicals students are coached in the staging , performance and singing of these pieces. The morning is broken into three separate sessions - dance, drama and combined musical theatre.
Classes will be grouped into:-
Juniors: 5-8 years
Middlies: 9-11 years
Seniors: 11 years and over
Examinations