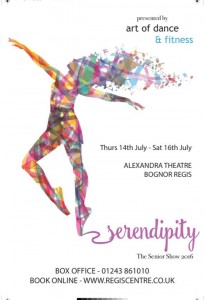 Senior show performances are on 14th,15th July and two shows on 16th July. Tickets will be available from the Alexandra Theatre tel no.01243 861010 or online at www.alexandratheatre.co.uk
Below is all the information that for Parents and students that we have.
If you would like to download a copy of this information in word format click here : Serendipity show letter.docx or a pdf version: Serendipity show letter.pdf
SHOW TICKETS
The tickets are on sale from the theatre now.  Prices are £10.00 and £9.00 for children under 12 only.  Due to popular demand there will be no facility to reserve tickets without payment. Tickets may also be purchased on line at: www.regiscentre.co.uk  or by phone on 01243 861010
Please see running order for the show. This may be subject to change.
REHEARSAL SCHEDULE
Please note that access in and out of the theatre will be via the STAGE DOOR (situated in the car park) for all.
Sunday 10th July
1st half students 9.30am until 12.30pm
Lunch 12.30pm until 1.30pm
Finale rehearsal 1.30pm until 2.30pm
2nd half students 2.30pm until 5.30pm
All students will be expected to participate in the finale.
Monday 11th July
All students 5.30pm until 9.00pm
Tuesday 12th July
All students 5.30pm until 9.00pm
Wednesday 13th July
DRESS REHEARSAL
(Full costume, hair and make-up please.)
All students to arrive by 5.00pm for 6.00pm start.
We anticipate finishing at 9.00pm.
FINALE COSTUME
Black cotton  leggings/cat suit- not tights . adf t-shirt, black jazz/dance shoes/plimsolls and red glitter hat. The red glitter hats are available at reception for £2.50 if you cannot find yours from the last show!
Costumes are only required to be worn from Wednesdays Dress Rehearsal onwards.
PERFORMANCES
Evening performances start at 7.00pm on Thursday 14th, Friday 15th and Saturday 16th July.
Matinee performance starts at 2.00pm on Saturday 16th July.
All students are required to arrive one hour before curtain up on all performances.
HAIR AND MAKE-UP
HAIR – every student must have the correct hair equipment. You will require hairnets, hairpins, grips and elastics. (Packs are available at £2.00 from reception). Gels and hairspray should also be provided.
MAKE-UP – We would ask that children wear a foundation with a pink or red/brown blusher. We ask that the lipstick be bright (reds tones are best).
Eye colour is to be brown.
We ask all students to bring water and snacks/lunch etc. with them, as the café at the theatre may not be open.
SHOW COSTUMES
Please note that costumes must be paid for by MONDAY 6th  June.
DVDs and Photograph's
The show will be filmed on the Saturday night only and photo's taken on dress rehearsal. A leaflet to order your DVD will be available in show week.
PARENTAL HELP
If you are a registered chaperone and kind enough to offer help back stage please contact the office with your availability. Many thanks.
AFTER SHOW PARTY
All children are invited to attend an after show/leavers party held at the theatre following the Saturday evening show. We ask that students be collected from the foyer by 11pm at the latest. We will ask the children to contribute a small plate of food (to be organised during show week)
FINALLY
WE HAVE ADVERTISING SPACE AVAILABLE IN OUR PROGRAMME.
Quarter page £20- Half page – £35 and Full page – £50
Should you wish to place an advertisement please contact the office with all relevant information as soon as possible.